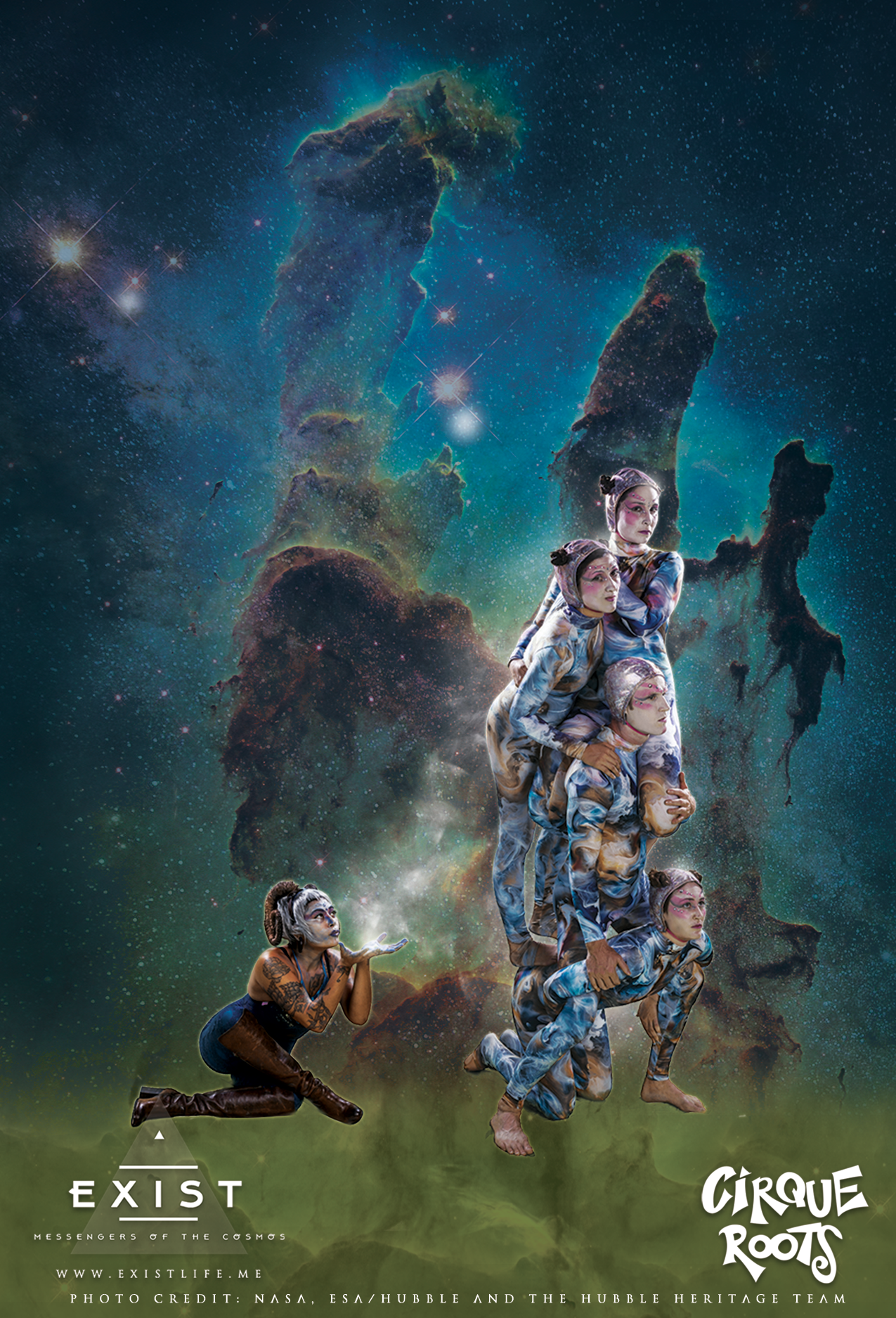 ABOUT
An astronomy-inspired theatrical circus infused with hard science, mythology, and universal questions. It will be accompanied by a visual art gallery as well as educational and creative workshops.
Cirque Roots' latest production, Exist, is an artistic venture that integrates art and science. Projections, acrobatics, stilt dance, poetry, narrative, original music and innovative circus props build a truly multimedia experience of the cosmos. Carl Sagan's famous quote, "We are star stuff," is the seed of Exist. It implies that we are composed of chemical elements that originated inside stars. Our planet, our bodies, and everything that we love and cherish are here because of the life cycle of stars. Exist explores the physical and emotional significance of what it means to be human in the Universe.

Photo Credit: NASA, ESA/Hubble and the Hubble Heritage Team
The cast consists of six circus artists, three actors, and two storytellers - performing live spoken word. The story follows two separate timelines: (1) the lifecycle of stars from birth to death, and (2) the human connection to the universe following the discoveries of three notable women in astronomy.
Exist is a creative collaboration produced and directed by Stephanie Cortes, Natalie Brewster Nguyen, Zoë Anderson, and Nicole Curry.
Stephanie Cortes, Director, Co-Producer and Performer, has a Master's in astronomy and is one of the founding members of Cirque Roots (a circus production company established in 2011). She also teaches Astronomy at Pima Community College and Exist utilizes her two career paths, blending her knowledge of the physical world with her passion for performance art. Exist was co-written by Stephanie Cortes and Natalie Brewster Nguyen, a Tucson-based performance artist and poet who will be the storyteller, narrating the show. The acting cast includes a diverse group of skilled player collaborating for this original Cirque Roots production. Including, Zoë Anderson (BA in Film and TV Production) will act as Co-Producer, Nicole Curry and Lena Melnick will collaborate as Choreographers, and Christoph Dribusch (Owner of Hulalab) is the designer and fabricator of the LED suits and props. Stephanie, Zoe, Lena, and Christoph are Cirque Roots performance artists who will act as the four alien star beings. Original soundtrack by Tucson music producer Ian Browning aka Party Force. Show length is approximately 1 hour.